10 Ways to Get Chamber Members to Pay On Time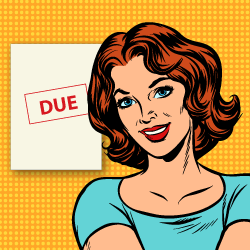 In a recent blog post about how to get invoices paid faster, Turbine outlined 10 tips for getting paid on time.
1. Be polite
Small phrases like 'please pay your chamber invoice within…' and 'thank you for your membership' can make a big difference. It can increase the percentage of invoices paid by over five percent.
2. Be specific
A specific time frame like 'please pay within 14 days' resonates with the chamber members more than something cryptic like 'payment terms: net 30' or 'pay upon receipt'
3. Use interest
Explaining that you'll be adding interest on late payments results in a higher percentage of invoice payments, but typically the payments take longer to receive.
[Video] See the easy way for chambers to accept and
process payments with our fully integrated payment system.
4. Offer incentives
Offer discounts to chamber members who pay within a set time frame (e.g., 5% for online payment received within 5 days).
5. Do it right
Ask your membership about their preferred invoice method. When it comes to a chamber member business, make sure invoices are properly formatted, include all necessary details, and are sent to the correct person.
6. Make It a routine
Invoice members at a set time, every time. People pay faster when invoices are emailed between certain times. Be sure to determine the highest success rate for your chamber of commerce.
7. Multiple payment methods
If your chamber members have different options for payment, particularly online (credit, debit card, ACH transfer, etc.), they'll pay faster.
8. Audit your members
Pay attention to the amount of time it takes for your chamber members to pay dues and dial in on habitual late payers. Make an action plan to ensure your chamber actually gets paid.
9. No benefits until they've paid
Would you let a customer leave your store with a new set of patio furniture, with the promise of payment? It shouldn't be any different for your members.
10. Be prompt with invoices
Sending invoices right away typically results in faster payment. Issuing invoices later often means delayed payment.
Chambers: Easily process one-time and recurring credit card,
debit card, and bank payments with GrowthZone Pay.
SEE ALSO: 10 Ways E-Billing Members Increases Chamber Efficiency and Lowers Cost
Editor's note: This article was originally posted on April 18, 2019. It has been updated.