11 Social Media Post Ideas for Chambers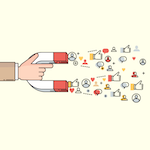 Finding time to implement a successful social media strategy for chambers can be a challenge. It doesn't have to be. Stick to the number one rule and use the success formula for an effective social media presence.
The #1 Social Media Rule: Post things that are interesting, informative, and relevant to your members.
The Social Media Success Formula: 40% of your posts should be info-tainment.
See the rest of the formula along with more post ideas in
the Chamber Social Media Survival Kit: Quick & Clever Social Media Posts.
11 Info-tainment Post Ideas for Chambers
Recommend a digital tool or useful app
The local weather forecast
Trivia Tuesday about the community
Adoptable pets available from local shelter
Traffic report
"Caption this" photo post
Real Estate market report
Road construction detour map
Post a random fact and let fans guess if it's true
Pending legislation and how to take action
Historic community photos
ChamberMaster's handy infographic for Chambers has 30 quick and clever post ideas you can use right now. Posts are organized by topic to make it easy.
Stick to the #1 rule, use the formula, and utilize the infographic to navigate your way to social media success!