4 Social Media Post Ideas for Chamber Promotion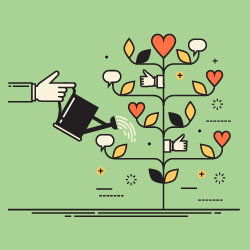 A successful chamber social media strategy doesn't have to be a challenge. Simply follow the formula to navigate your way to an effective social media presence.
The #1 Social Media Rule: Post things that are interesting, informative, and relevant to your members.
See the rest of the formula along with more post ideas in
the Chamber Social Media Survival Kit: Quick & Clever Social Media Posts.
The Social Media Success Formula: Only 10% of your posts should be chamber self-promotion.
4 Self-Promotion Post Ideas for Chambers
Regularly change the cover photo on your page
Training or event reminder
Share when the Chamber reaches a goal
"What I love most about the Chamber is…"
ChamberMaster's handy infographic for Chambers has 30 quick and clever post ideas you can use right now. Posts are organized by topic to make it easy.
Stick to the #1 rule, use the formula, and use the infographic to navigate your way to social media success!