6 Social Media Post Ideas for Chambers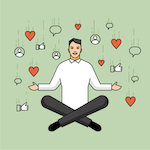 The third step for a successful social media strategy for chambers still utilizes the number one rule and involves the social media success formula.
The #1 Social Media Rule: Post things that are interesting, informative, and relevant to your members.
See the rest of the formula along with post ideas in
the Chamber Social Media Survival Kit: Quick & Clever Social Media Posts.
The Social Media Success Formula: 20% of your posts should promote events.
6 Ideas for Chamber Event Promotion Posts:
Top 10 countdown prior to a Chamber event
Event sponsorship thank-yous
Exciting summary of day one of a multi-day event
Photos of invitation, program, or door prizes
Short video of emcee or guest speaker
Social media contest with event tickets as the prize
ChamberMaster's handy infographic for Chambers has 30 quick and clever post ideas you can use right now. Posts are organized by topic to make it easy.