9 More Social Media Post Ideas for Chambers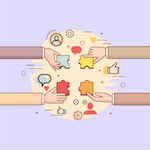 The next step for a successful social media strategy for chambers still utilizes the number one rule and involves the social media success formula.
The #1 Social Media Rule: Post things that are interesting, informative, and relevant to your members.
See the rest of the formula along with post ideas in the Chamber
Social Media Survival Kit: Quick & Clever Social Media Posts.
The Social Media Success Formula: 30% of your posts should promote members.
9 Ideas for Chamber Member Promotion Posts:
#DontCookThursday restaurant spotlight
Recognize membership renewals
Reminder about members with seasonal businesses
Link to your Member Business Directory to promote local shopping
Trivia question about a Hot Deal from a member business
Welcome new members
Highlight member-to-member Hot Deals
Spotlight members who volunteer/make charitable contributions
Job postings from member businesses
ChamberMaster's handy infographic for Chambers has 30 quick and clever post ideas you can use right now. Posts are organized by topic to make it easy.