Boosting Member Engagement Through Mobile Apps
Mobile apps are everywhere, connecting businesses and customers in ways that seemed improbable even a decade ago.
Americans aren't "surfing the net" like they use to be. Instead, we're spending much of our time using mobile apps on our Smartphones and tablets.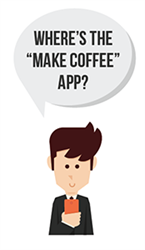 As consumers, we're spending more time on our apps than ever before. Smartphone users between the ages of 24-44 use the most apps per month (29 apps on average), but 18-24-year-olds spend the most time on their apps (37 hours, six minutes per month). People of all ages are using mobile apps. Mobile app users 55 and older spent more than 21 hours on average accessing 22 different apps per month. (Nielsen, July 2014).
Apps make looking up information so much faster. It takes only seconds to launch a mobile app on your Smartphone or tablet, but it often takes longer to load a website on a mobile device, especially if you happen to be located in an area with bad reception.
• Mobile apps allow businesses to directly contact customers with push notifications, while mobile websites do not.
• Mobile apps remain visible and easily accessible on your smart phone's home screen, while mobile websites would need to be bookmarked to make them more accessible.
• Mobile apps can function offline, while mobile websites do not.
Most large chain stores began offering mobile apps a few years ago. Since then, smaller businesses and many industries have followed, along with a host of organizations, including chambers. The number continues to grow rapidly each year.
"A mobile app is like having an easy button, if you will," explained Derek Owen, sales consultant at MicroNet, Inc. "People want to view things on their phones."
It's important to note that a website must still remain an integral part of your chamber's comprehensive marketing strategy.
"You never know where a customer is coming from. In just three clicks, if they can't find what they're looking for, then they are done," said Owen.
Download Why Mobile Matters to learn how mobile technology can enhance your chamber's member engagement and existing web offerings.