Award-winning Idea: Chamber Helps Local Businesses with ADA Compliance
An award-winning idea from the 2015 Chamber Innovation Award competition:
BREAKING NEW GROUND FOR PEOPLE WITH DISABILITIES
FACT: The Americans with Disabilities Act (ADA) requires businesses and non-profits to accommodate people with disabilities on an equal basis with the rest of the public. ADA is law, not a building code.
MYTH: Older facilities are "grandfathered" in and only new construction needs to be accessible.

The Readily Achievable Barrier Removal Plan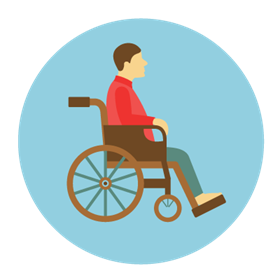 Marshall, MN has a large population of people in wheelchairs compared to cities of similar size.
When a number accessibility-based, ADA lawsuits were filed against local businesses, the Marshall Area Chamber of Commerce went into action.
The Chamber came up with a plan to help businesses meet ADA requirements and improve the city's overall accessibility. They worked with the city, the state, and advocates for independent living to implement the plan.
The Chamber:
drafted an information packet for Readily Achievable Barrier Removal Plans.
worked with businesses to develop a plan focused on parking, accessibility, shopability, and awareness.
provided matching grant assistance for improvements.
supplied businesses with marketing materials to communicate their program participation.
Instead of just sending information and hoping a business would take the initiative, the Chamber provided support. In just four months, they helped almost 50 businesses.
As a result, the Marshall Chamber has an increased awareness of accommodating disabled citizens and plans to continue the program.
Information on starting a Readily Achievable Barrier Removal Plan is available through the ADA National Network.
See more award-winning Chamber program and event ideas. Download Chambers of Inspiration Idea Book, Vol. 2 to learn what they did (and how they did it).