Countdown to Member Engagement
The challenge is ongoing: How to design an event that generates enough buzz to command the attention of even the most disengaged of members? And on top of that, something that demonstrates a benefit to attendees? Plus, make it an event that leaves enough of an impression to drive even higher attendance the next time? Impossible? No!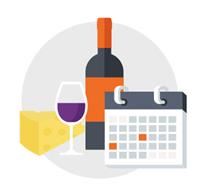 We've said it before, and it bears repeating: Chamber events don't have to be all about meat and cheese trays with a chaser of boxed wine. That's not to say that there's not a time and a place for those events. However, in the wake of the ever-increasing demand for members' time (and money), it makes sense to explore other options, keeping things fresh and interesting.
This is the next post in a series recapping last year's Chamber Innovation Contest finalists. Sponsored by ChamberMaster, chambers of commerce across North America were asked to enter their most innovative program idea, and in return, be in the running for the $1000 grand prize.
Submissions were judged on creativity, community impact, and chamber value. The field was narrowed to five finalists who executed creative and effective programs that injected new life and energy into their organizations and their communities.
ChamberMaster is pleased to present another innovative idea of a 2014 Chamber Innovation Award finalist, the Old Saybrook Chamber of Commerce in coastal Connecticut.
Their Idea? "Business Speed Dating"
IT ONLY TAKES 30 SECONDS TO OPEN DOORS
The Old Saybrook Chamber of Commerce took dating to the next level. The chamber put an interesting twist on the popular 'speed dating' idea by turning it into 'business speed dating.' Businesses from across the area were brought together and given two 30-second spots to introduce their business to other attendees, turning the monthly membership meetings into a highly informative and energetic event. A moderator was present to keep things moving by ensuring participants adhered to the format of the program.
"We have seen tangible results from this program. In one instance, a member learned that by switching his business telephone systems to a member phone company he would not only improve his system, he'd also realize significant monthly savings," Meryl Tsagronis, Marketing Coordinator Old Saybrook Chamber of Commerce.
To add another twist, three members were allotted a 2-minute slot and were designated Featured Members of the Meeting. Finally, one lucky attendee was randomly selected to be the Featured Member of the Month and received a color photo and article about their company in Old Saybrook's monthly newsletter. Members benefitted by having a captive audience and platform from which to promote their business. People learned new things, met new people, and made lasting and meaningful connections. What can you do with an idea like this in your chamber? You never know until you try.
Keep an eye out for details on the 2015 Chamber Innovation Award competition (coming soon) and win $1500 for your chamber!