A Low Cost, Innovative Program Idea for Chambers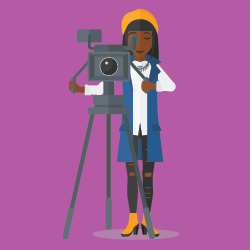 The 2016 Chambers of Inspiration Idea Book includes five award-winning ideas from the 3rd Annual Chamber Innovation Award Competition.
Lights, Camera, Bennington!
Featured in the book and receiving Honorable Mention in this year's highly-competitive Chamber Innovation Awards is the Bennington Area Chamber of Commerce, located in Bennington, VT.
When it comes to shining a spotlight on local business, production quality is critical, and the Bennington Chamber of Commerce gets it.
"Bennington Made" is a behind-the-scenes tv series that showcases unique Bennington businesses. Similar in format to Discovery Science's "How It's Made" and ABC News' "Made in America," the production is both modern and intriguing.
See all 5 award-winning chamber program and event ideas
in Chambers of Inspiration, Vol. 3.
With a focus on quality, craftsmanship, and locally-made products, the series puts a spotlight on the pride and celebration of products made by residents of Bennington.
"Bennington Made" brings great opportunity – member businesses benefit from the exposure and they also receive the professional footage for use in their own marketing efforts.
The best part? It's free! The Chamber partners with the local cable access channel to produce the show. Additionally, the chamber uses the program and videos to draw visitors, other businesses, and workers to the area.
Executive Director, Matt Harrington shared the chamber's philosophy, "It's our belief that community-wide collaboration and the alignment of direct-value resources is the win-win scenario for Chambers in the next decade. The ability to combine community talents, resources, ideas, and strategy not only helps promote our business members and the Chamber globally, but it also helps our members understand how to compete in the world of new media; it's an extremely valuable benefit to being part of the Chamber of Commerce."
The search for new, innovative events and programs is a common challenge for chambers. See what some of the most innovative chambers across North America are doing to support their members and impact their community. Download Chambers of Inspiration Idea Book, Vol. 3 today.