Easy Ways to Use Video to Engage Members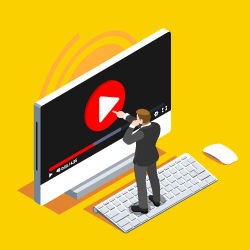 It's tough to build trusted relationships with chamber members when they are spread across your area. Using video is a powerful way to drive engagement, educate, and demonstrate chamber value and member ROI – from your office to theirs.
Why Member Engagement No
Longer Means Face-to-Face >>
Begin with a welcome message from your chamber president or executive officer and move forward from there. Before you know it, you will have a video library to inform and entertain members and get the attention of prospective chamber members.
VIDEO TOPIC IDEAS
Welcome new members with a warm greeting from your chamber's president or executive officer. It will make a lasting first impression.
Create a powerful message about your organization for your website, social media channels, and email campaigns.
Highlight a chamber membership benefit and explain the potential value.
Introduce key chamber of commerce staff (e.g. customer service) and how they will assist members.
Introduce new members by inviting them to submit a short video about their products/services.
Showcase a member with a testimonial about the value they've gotten from your chamber of commerce.
Promote events and education to increase attendance and chamber sponsorships.
Communicate the serious things, like legislative issues and local news.
Download our free
Chamber Onboarding Schedule. >>
VIDEO WORKS
Onboarding: Including a video in your member onboarding email can double the click-through rate.
Video vs. Text: 59% of executives say they would rather watch a video than read text.
Landing Pages: Including a video on a landing page can increase conversion rates by 80%.
Comprehension: The impact of video is proven to increase customer understanding of a product or service by as much as 74%.
Social Media: Social video generates 1200% more shares than text and images combined.
VIDEO TIPS
Budget & Quality: Your chamber doesn't need a big budget or expensive equipment to create effective videos. A mobile phone and inexpensive online

video editing tools

can produce great results.
Length: Remember to always keep your video messages under two minutes. 33% of viewers will stop watching a video after 30 seconds, 45% by one minute, and 60% by two minutes.
Non-Dues Revenue: Offer chamber sponsorship and advertising opportunities for videos when appropriate. This gives your membership/vendors valuable branding time in front of their customers and provides non-dues revenue for your chamber.
By the end of 2019, global consumer internet video traffic will account for 80% of all consumer internet traffic. Is your chamber effectively leveraging this simple tactic to engage with members?
Article Sources: customer.io, WordStream, Unbounce, Rapt Media, Responsive, Inbound Marketing, Small Business Trends, Ad Age, Small Biz Trends
SEE ALSO: 14 Instagram Captions for Chambers of Commerce
Editor's note: This article was originally posted on June 14, 2018. It has been updated.