Event Promotion Checklist for Chambers
Putting on an event is no small task. But no matter what type of event you're organizing – a large expo, a small conference, a golf tournament, an educational seminar, or your chamber's annual dinner, promotion is key.
What are you missing when promoting chamber events?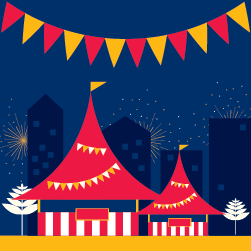 Get more out of your event marketing with our guide, Before, During & After: The How-To Guide to Successful Event Promotions. It provides tips for:
maximizing registrations and increasing attendance
promotional messaging during the event
post-event marketing
Section 1 Sneak Preview:
Planning and Goal Setting
Define your purpose: Will people understand why the event is taking place? For example, are you raising money to meet a goal? Are you helping attendees earn education credits? Are you recruiting new members? Have a clear purpose and give participants a sense of urgency to attend.
Target your audience: Before you set the date, send the first invitation, or post your first Tweet, identify exactly who you want to attend. Is it a members-only affair? Are non-members and/or families invited? Defining your audience will make it easier to create promotional messages and strategies for reaching potential attendees.
Define the benefits of attending: Why should someone attend? Will there be informative speakers, live music, fun prizes, education credits, or networking opportunities? Make sure people know what they'll get by attending.
Make registration easy: Minimize steps to register and give crystal clear calls to action. And be sure to remind people with more detail along the way.
Get the guide for more tips on:
Messaging
Promotional tactics
During the event
Post-event marketing
Your chamber spends a lot of time (and money!) putting together in-person events – the last thing you want is an empty room. Tackle your next event with confidence with this blueprint for success. Happy planning!
Get more out of your chamber event marketing.
Before, During & After: The How-To Guide to Successful Event Promotions.