Facebook Slideshow for Chambers: How-to and Why
Facebook's Slideshow is a customized, high-quality video based on a series of your photos.
Slideshow lets you quickly and easily combine multiple images, text, and sound to capture your audience's attention and tell a story with photos.
Why use slideshow?
Build a fun and engaging video quickly and easily.
Display your products, events photos, or tutorials.
Reach people on mobile devices or with slow internet connections.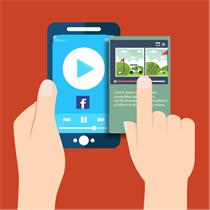 To add a slideshow to your Page:
Click Photo / Video at the top of your Facebook Page's Timeline
Click Create Slideshow
Select a photo from your Facebook albums or your computer, then click + to add more photos
Choose your music
Enter the text you want to show with your slideshow
To reorder the slideshow, click and drag the images
Add an optional update and click Publish
Within 2 minutes your slideshow will be published on your Page. (Note: You may need to reload your Page to view it.)
Want more people to see it?
Click Boost Post and add the audience, budget, and schedule you'd like for your boosted post.
Click Boost to place your order.
Slideshow videos are "lightweight," meaning they'll easily stream for people on mobile and with slow internet connections.
Mobile video has grown 170% since 2013 and over 50% of Facebook users login ONLY from a mobile device. Are you maximizing your market reach?
Get 30 more quick and easy ideas for social media posts in our popular infographic.
Article Sources:
Facebook
TubularInsights.com