FREE Recruitment Tool for Your Toughest Membership Prospects
Fact: Selling Chamber memberships isn't easy.
Fact: Main Street has gone global and demonstrating Chamber value is more challenging than it's ever been.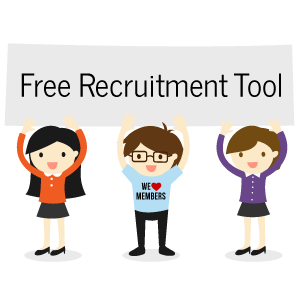 Fact: In order to win the trust of prospective members, Chamber professionals are under pressure to illustrate the benefits of membership in a clear and efficient manner.
Fact: Chambers aren't selling a product, they're selling a solution – an ultra-efficient way to communicate the value of that solution is through visual representation.
Enter the Infographic.
Infographics have power. They can be used in a variety of ways, they are a quick read, AND they work.
The ChamberMaster team put our heads together and came up with the top 6 reasons to join a Chamber. The result? A FREE, fresh marketing piece designed for your Chamber to use to help convince businesses to join.
Download Why Join A Chamber and use it as your go-to member recruitment tool. It illustrates the perks and advantages of Chamber membership in one eye-catching infographic.
This complimentary infographic is our gift to you and it's the perfect addition to your recruiting tool-kit. Share it on social media, post it on your website, or send it to prospective members.
Now you can show AND tell the benefits of membership to your toughest prospects!
Looking for more ways to grow your membership? Check out ChamberMaster's recorded webinar with Frank Kenny on using Content Marketing to Attract New Members.