An Easy Way to Increase Chamber Sponsorships
A ChamberMaster Staff Post
Our annual sponsorships were filled by January!
One of the most successful tools I used while working for a chamber of commerce was a "sponsor playbook." The purpose of the playbook was to help our members choose the best chamber sponsorship opportunities for their businesses and to give them the first chance to renew their sponsorship each year. The win for our chamber of commerce was that I had less selling to do because it was easier for members to sign up for chamber of commerce sponsorships.
Hate Selling? You're Just Human.
The Chamber of Commerce Member Recruitment Success Kit
is full of low-pressure tips on how to
sell chamber memberships.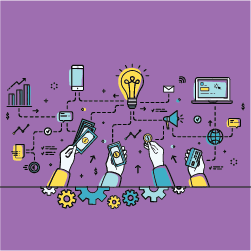 Build a Sponsor Playbook
Create a page for each event that has sponsorship opportunities available. Include photos, logistics, cost, number of attendees expected, etc.
Include a sponsorship checklist on the final page of the chamber sponsor playbook for prospects to select from all of the sponsorship ideas.
Ask for Repeats
Send the playbook to last year's chamber of commerce sponsors with the opportunity to REPEAT their sponsorship; include a deadline to reply. In most cases, your membership will appreciate being asked to repeat and say YES.
After you hear back from last year's sponsors, update the playbook with logos from the confirmed sponsors who are repeating; this will help build momentum for cultivating additional sponsors, which frees up time to manage the chamber of commerce.
Send to All Members
After adding the repeating sponsors to the playbook, post the playbook on your chamber of commerce website and use your membership software to email it to all members along with a reminder that sponsorship opportunities are on a first-come, first-serve basis.
Continue to update the chamber sponsorship ideas playbook on your website as sponsorships are secured.
Creating your chamber's sponsorship playbook will save you time in the long run and lead to additional chamber revenue as the demand for more chamber sponsorship ideas and opportunities increases.
Maximize chamber event registrations and increase attendance. Read the
How-to Guide to Successful Chamber of Commerce
Event Promotion Ideas now.
Editor's note: This article was originally posted on August 3, 2017. It has been updated.