January Social Media Post Ideas for Chambers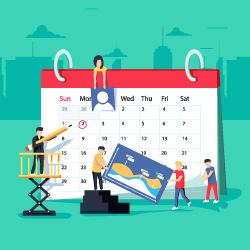 January is the perfect time to hit the ground running with new association social media tactics. Plan ahead with these holiday and event ideas for your January posts:
MONTHLY:
Birth Defects Prevention Month
Cervical Health Awareness Month
Learn to Ski and Snowboard Month
Self Defense Awareness Month
Glaucoma Awareness Month
Walk Your Pet Month
Human Trafficking Awareness Month
Oatmeal Month
Blood Donor Month

WEEKLY:
Home Office Safety and Security Week - 1st full week
Letter Writing Week - 2nd week
Snowmobile Safety Week - 1/19-1/27
Clean Out Your Inbox Week - 1/22-1/28
Complimentary Download: Learn 4 simple ways to improve your email open rates.
DAILY:
New Years Day - 1/1
Science Fiction Day - 1/2
World Braille Day - 1/4
Bean Day - 1/6
Kiss a Ginger Day - 1/12
Korean-American Day - 1/13
Martin Luther King, Jr. Day - 1/21 (3rd Monday)
Hug Day - 1/21
Handwriting Day - 1/23
Belly Laugh Day - 1/24
Mobile Recycling Day - 1/24
Fun at Work Day - 1/25
Holocaust Remembrance Day - 1/27
Kazoo Day - 1/28
Bubble Wrap Appreciation Day - 1/28 (last Monday)
Puzzle Day - 1/29
SEE MORE: Check out dozens of blog posts about social media for chambers.