The Value of Building Your Online Tribe. Guest Blog by Frank Kenny
I often run into Chamber and Association professionals who don't see the value of building an online community – a tribe – for their organization.
Listed here are a few arguments and excuses I have heard against establishing and nurturing an online tribe. I've also included my responses to them.
"My members aren't using social media!"
First, it's not just about your members.
It's about everyone in your community (and even the entire region) that your organization serves.
You are trying to build a very large audience of people that know, like, and trust your organization. This happens by providing content – things they care about. What do people care about? Themselves and their lives. They want more money, more time, more freedom, more, more, more.
Give your audience what it wants by tweeting about community happenings (content that informs and educates). Entertain them with images and videos on Facebook and Instagram. Inspire them with stories and articles on LinkedIn and Pinterest.
Be one of their favorite sources of content and provide posts that add value to their lives.
Second, data shows the majority of people are using social media. Matter of fact, according to Pew Research Center, two-thirds of the American population uses social media.
You may hate it, but your members and community are using it.

"But my members aren't on Twitter, etc!"
I know that not everyone is on Twitter. Not everyone is on Facebook or LinkedIn either. But, chances are, they are on one of them.
You don't have to become best friends with them. You just have to be in their feeds from time to time. GIVING rather than asking. SOCIALIZING rather than selling.
Be where they are and be a welcome guest rather than an advertiser or promoter.
"I don't have the time!"

Social media isn't a time-sucking hassle. It's a timesaving opportunity to reach more people than you ever could face-to-face or ear-to-ear.
Consider what scales. Does driving across town for a meeting scale? No. Meetings eat up your time, as does driving.
Does making phone calls scale? It's better than face-to-face meetings but still, how many people can you call and reach in a day? Not many. Further, a phone call is like a commercial or ad. It's now considered an unwelcomed interruption.
"Not many people are seeing our Facebook posts."
Just because you are posting to social media doesn't mean that people are seeing all of your posts. For a variety of reasons, such as being away from the computer, people will miss your posts.
Provide content on more than one front and add email to your social media efforts. Emails to your members and prospects will be waiting for them in their inbox until they read or delete them.
If you have their email address (and permission to email them), that is more effective than just using social media alone.
Keep providing them with value through social media and email.
"How do we monetize or benefit from this?"
Somewhere down the road, 3 months, 6 months, 2 years from now, you will have a massive audience that knows, likes, and trusts you – impossible before the internet and social media came along. Then (BAM!) you offer them a product or service they could use (a membership, trip to Cuba, or maybe a solution to a problem).
Your audience knows, likes, and trusts you, so a large percentage of them will say yes (if not to that offer, then the next).
Or maybe you don't sell them something.
Instead, you mobilize them into a powerful and influential force under your leadership. In real life, you don't create an army for each battle that comes along. You raise a standing army. That is what an exclusive audience that knows, likes, and trusts you is – a standing army of customers or backers.
"What's social media about, really?"
In the end, it's about creating an asset that no one else has – your audience. Your community. Your tribe.
Developing your audience comes first. When you need it, it will be there for you. You can monetize it or benefit from it in a myriad of ways.
But until you have built your audience, you are just a stranger. People don't trust or do business with strangers much anymore, do they?

Want to learn more?
Join us November 17th for our webinar led by Frank Kenny, "Building & Nurturing Your Online Tribe," and discover the simple method for increasing your member retention and sales numbers: focusing on your online community.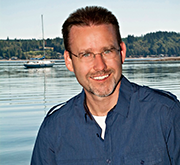 Frank J. Kenny is an internationally recognized author, professional speaker, and consultant. He is on the faculty of the U.S. Chamber of Commerce Institute for Organization Management (IOM). He has taught social media, digital marketing, and technology strategies to business audiences from around the world.