The Year Ahead: Guest Blog by Kyle Sexton
The couch in my office cost me thousands and thousands of dollars. Not literally, of course, but this piece of furniture from my former office made the move with me to a different office and was on the same wall as my glass dry-erase boards – five of them.
The culture of my team at the time was such that people could see what I was working on by poking their head in and check out these "windows to the future" as they became known. So when the brown leather loveseat the size of a small cow kept blocking access to my windows, it had to go.
My productivity has sky-rocketed since. Maybe it's because big ideas need big spaces, or because out-of-sight really is out-of-mind.
I've made other changes as well. I used to use my calendar only for meetings and appointments and fill up the gaps with my favorite project or distraction ("Squirrel!"); I often confused the urgent for the important. Here I am, in my office, just waiting for a fire to put out.
I discovered a huge improvement in my own job satisfaction when I started using my calendar (instead of my to-do list) to keep track of the promises I've made. My mentor and boss had encouraged me in this direction for years, but I preferred to fight fires because they were so satisfying.
Brendon Burchard recommends a daily productivity system. "Begin your day with optimism and enthusiasm – not emails," he says. "Unless your job is to respond to emails, the inbox is just an organizational tool for other people's agendas."
I recently shared one of Brendon's tips with one of my Membership Year One students, a membership VP in her fifth year. The following morning, she had checked off four of her priorities for the day before 9 a.m.
Here are additional interesting ways to think about your own productivity:
If you get up earlier by 1 minute per day, you could be getting an extra hour out of each day 60 days from now.
If you improve yourself 1% per day, you'll be twice as good 70 days from now.
The more you get done every day before lunch, the more you'll get done every year.
Brian Tracy once said, "Only undertake what you can do in an excellent fashion. There are no prizes for average performance." I think he wasn't just talking to us as professionals; perhaps he was talking about our organizations, too.
What can you accomplish in the next 12 months? What about your team? And your organization? The right agenda paired with the right productivity could make for your best year yet.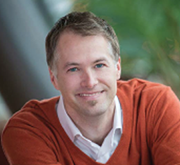 // Kyle Sexton is an award-winning marketing strategist and international speaker on the topics of membership development, marketing and innovation. His innovations have been featured in the Wall Street Journal, and his book, ReMembership – New Thinking for Tomorrow's Membership Organization is fueling transformations in organizations throughout North America. His latest book, Follow You Anywhere – 22 Little Lessons for Team Leaders, became an Amazon best-seller on the third day of its release.
Kyle Sexton