Twitter for Chamber of Commerce Marketing Just Got Easier
The Chamber of Commerce Twittersphere just got more exciting.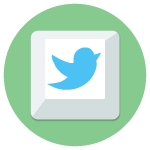 Although Twitter will always be famous for its 140-character tweet limit, it was a real drag if you were replying, quoting tweets, including a link, or attaching media. Why? Because using any of those generate additional text, which counted against the 140 characters.
But, those days are gone!
According to Twitter, they've evolved and simplified. Links, media, polls, etc. no longer count toward their character limit.
Additionally, in the last year they've enriched the user experience.
Users can now:
Retweet their own tweets
Include GIFs right from the Twitter library
Create polls
Broadcast live right from Twitter via Periscope
As a reminder, Twitter is a social media channel that shouldn't be ignored. Twitter states that they have 310M monthly active users and that there are 500 million Tweets sent each day (6,000 tweets per second).
When Twitter comes up in conversation, a lot of people say they "don't get it" or "don't like it." Fair enough, but a lot of other people love it and it's critical to a well-rounded social media plan for any organization.
If you've been ignoring Twitter, it's time dust off your handle and see what you think of the updated user experience.
Struggling for social media ideas for your Chamber? Download our free infographic, Social Media Survival: Quick & Clever Social Media Posts for Chambers. It has 30 idea starters for when you're stumped about what to post on social media.