Why Chambers Are Abandoning Mobile Websites and Choosing Responsive Websites
When smartphones exploded in popularity, companies soon discovered that their websites seemed clunky to navigate and looked disproportionate on a tiny mobile screen. The website also took much longer to load when accessed by a mobile device.
Companies, including chambers, then started building separate mobile websites to give mobile users a better online viewing experience.
Now many companies are choosing responsive websites vs. mobile websites.
So what's the difference?
Both responsive and mobile websites will optimize your website for navigation on various digital platforms. However, there are key differences between a responsive web design and mobile website.
Responsive websites: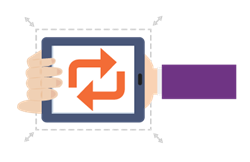 Offer a flexible web page design, allowing the website to adjust automatically to a mobile device's screen size and orientation.
Allow you to keep your domain. Your website address remains the same, providing you with better search engine optimization results.
Mobile websites:
Are scaled down versions of your existing website featuring smaller, optimized pages for viewing on mobile devices.
Require a separate mobile site with a different domain name. Most companies opt to use a similar website address, adding an "m" before the domain.
More chambers are abandoning their mobile websites and choosing responsive websites, rather than maintaining two websites. A mobile website can require additional maintenance and expenses in the future in order to remain current with the next generation of mobile devices and browsers. It is critical that your existing website is mobile-friendly, whether it be a mobile or responsive site. If mobile users find your site difficult to navigate, they will leave and not return.

Download Why Mobile Matters to learn how mobile technology can enhance member engagement and your chamber's existing web offerings.