Why Mobile Apps are a 'Must-Have' for Your Chamber Staff
Whether they're in the middle of hosting a chamber golf tournament or out of the office visiting with members, it's critical that chamber staff stay connected while on the go.
The most efficient and cost-effective tool to accomplish this is a native mobile app, combined with a web-based management system, which allows chamber staff to access information from their mobile devices while out of the office.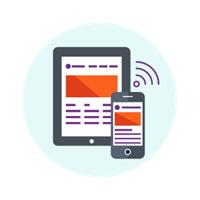 Native Mobile Apps
A native app runs a computer program on your mobile device, providing you with an easy-to-navigate user interface and features that were designed into the software. A native mobile app companion to a web-based database allows your staff to perform meaningful and substantive work on-the-fly.
Why carry around a bulky laptop when you have the world at your fingertips on your Smartphone and tablet? Most staff members prefer the ease of using their Smartphone and can easily download the app to access your network. There are two primary app stores, the Apple App Store (iOS for iPhones and iPads) and Google's storefront for the Android market.
Once an app is natively downloaded, it does not always require a wireless internet connection because it operates via your mobile data service. An app also reduces the possibility of buffering video and audio problems or slow connections that can disrupt the mobile experience.
An effective native mobile app should allow your staff to perform complex administrative tasks from their own devices, including:
Quickly search for members, prospective members and other key players important to the chamber in the database utilizing a color-coded directory listing
Allow staff to view member profiles, web stats and event activity
View and edit special events
Add registrants to an attendee list, checking-in guests on-site and viewing their payment status
Create or view a task list, so staff members understand their roles at an event or activity
Create and send email to members or event attendees
Develop detailed notes and follow-up reminders
Provide real-time information, whether staff members are in or out of the office
If a mobile app has limited capabilities, is outdated or doesn't fit the needs of your staff, they simply won't use it.
Download Why Mobile Matters to learn how mobile app technology can benefit your chamber office.