A Creative, Award-winning Chamber Event Idea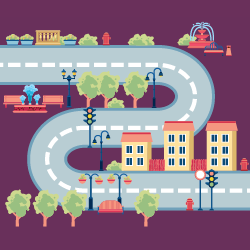 The Chambers of Inspiration Idea Book showcases innovative programs, events, and ideas that challenge the status quo.
Featured in volume 3 of the book and receiving Honorable Mention in the highly-competitive Chamber Innovation Awards is the Greater Statesville Chamber of Commerce, located in Statesville, NC.
See all 5 award-winning chamber program and event ideas
in Chambers of Inspiration, Vol. 3.
Their award-winning idea? The Davis Regional Amazing Race
Based on the popular CBS show, Davis Regional Amazing Race takes teams of four throughout the service area of the Greater Statesville Chamber of Commerce. The teams search for answers to clues and riddles, complete challenges, and test their knowledge of the county. Contestants must also use teamwork and communication skills to gain an edge.
Everyone starts at one location where each team analyzes clues to identify destinations across the region. Once the destinations are determined, the teams analyze the fastest route to get there, and then they head out where unknown tasks await them at each location.
Past tasks have included zip lining through the Outdoor Education Center and running a NASCAR pit crew challenge at the Automotive Technology Center.
The twist: Teams have an opportunity to win an "advantage" in the race, but only if they complete and win the challenge of posting a team photo to the Chamber's Facebook page and then getting the most "likes" by the start of the race.
The Chamber's Facebook page followers increased by 2,000 during and following the event! This created a larger community for the Chamber to spread information about public policy, community outreach, and innovative programs.
The race is timed, and the first team to cross the finish line wins. There is no money involved, just trophies and bragging rights.
The Davis Regional Amazing Race has grown to become the Chamber's most anticipated event. It bridges the gap between millennials, business owners, Chamber members, and non-members. It also educates residents and businesses about the county and community and provides them the opportunity to visit and take part in activities that they would not have the chance to otherwise.
Chambers often face the same challenge - the search for new, innovative events and programs. See what some of the most innovative Chambers across North America are doing to support their members and impact their community. Download Chambers of Inspiration Idea Book, Vol. 3 today.