Wishing You a Warm and Meaningful Thanksgiving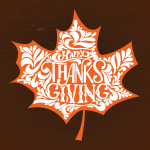 In the spirit of Thanksgiving, we would like to express our sincere gratitude for our customers, our employees, and for everyone in the ChamberMaster family.
This year, we have gathered some of our favorite Thanksgiving quotes to share with our readers. Enjoy!
"Not what we say about our blessings, but how we use them, is the true measure of our Thanksgiving." -W.T. Purkiser
"Gratitude is not only the greatest of virtues, but the parent of all others." -Marcus Tullius Cicero
"After a good dinner, one can forgive anybody, even one's own relations." -Oscar Wilde
"I am grateful for what I am and have. My thanksgiving is perpetual." -Henry David Thoreau
"When I started counting my blessings, my whole life turned around." -Willie Nelson
"No one has ever become poor by giving." -Anne Frank
"I come from a family where gravy is considered a beverage." -Erma Bombeck
"We must find the time to stop and thank the people who make a difference in our lives." -John F. Kennedy
"Be present in all things and thankful for all things." -Maya Angelou
"What if, today, we were grateful for everything?" -Charlie Brown
We extend our sincere wishes for a relaxing and meaningful Thanksgiving.