Hey, Young Professionals – 3 Big Reasons You Should Join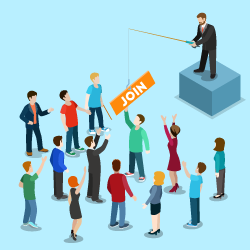 "What's in it for me?"
At a time when a professional's experience and qualifications are available at the touch of a button, keeping your LinkedIn profile (and resume) fresh is important.
Chamber membership allows young professionals to demonstrate a commitment to continuing education, a personal investment in the community, and a variety of other "selling points" to gain credibility and experience.
Here are three ways chambers can help:
1. Reputation Building
Chambers help members create a name for themselves. Membership builds credibility, indicates a commitment to the community, signals a commitment to professional and ethical standards, and assures knowledge of community trends and developments.
2. Leadership Skills
Members can participate in programs that help them become a recognized community leader. From the smallest engagement (answering questions at an event) to major participation (speaking at a legislative session), taking advantage of any opportunity helps with professional development.
See more about trends and tactics to help chambers
drive participation and engagement in the 21st century.
3. Certifications & Designations
Whether required or optional, chamber-provided certifications and designations offer ongoing opportunities for professional development and a diversified skill set.
Chambers exist for their members. By design, everything they do is to benefit the people that are part of their organization. Look at membership through the lens of what the chamber can do for members. After all, that's why they're there.
Increased pressure to recruit younger members?
Download 8 ways to tackle the challenge.
SEE ALSO: 2 Ways for Chambers to Appeal to Young Professionals>>