MicroNet Employees Volunteer at Timber Bay
May 19, 2015
NISSWA, Minn. – Employees of Nisswa-based MicroNet, Inc., the market leader of member management software and services, recently joined together and volunteered at Timber Bay Camp and Retreat Center near Onamia. Timber Bay actively serves youth from across Minnesota.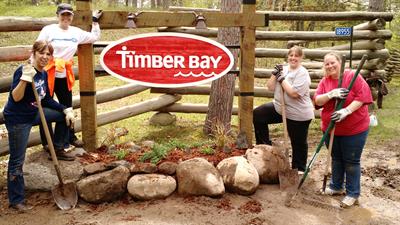 MicroNet CEO Scott Juranek and members of the MicroNet team donated their workday, pitching in to help prepare facilities for the summer season. Employees collaborated on several projects which included rock work and landscaping near the entrance, raking and clean-up, and the installation of two docks.
The day also included a facility tour and lunch.
About MicroNet
With headquarters in Nisswa, Minn., MicroNet Inc., develops membership management software like ChamberMaster and MemberZone for close to 2,000 member-based organizations nationwide. Its products help organizations generate revenue and streamline operations with membership management tools for recruiting and rete­­­ntion. MicroNet employs 60 people. For more information, visit www.micronetonline.com.
Media Contact:
John Cook
VP of Marketing
MicroNet
218.825.9200 ext. 230
john.cook@micronetonline.com